Fake Flowers with Vase Faux Flowers with Flower Vase Fake Flower Decor Plant Decor Shabby Chic Decor Room Decoration Living Room (Pink)
Product No.:US2FP01VBK05
Price:3.99 USD
Material:Ceramic
Faux Flowers with Flower Vase:The shabby chic decor,the white flower is made of silk,wire wrapped with plastic is to keep stem firmness and angle-adjustable.The flower vase-the black vase is ceramic frosted.Black vase with white flower-they complement each other perfectly!

Fake Flowers with Vase:value pack with 1 white cherry flower bouquet,1 black flower vase.Make your own centerpiece for shabby chic decor room decoration for living room!Flower Decor: The artificial flowers set:white artificial flowers with black flowervase, is highly recommend you to choose them as a gift for your family, friends and lovers,Mother's Day,Easter,Christmas Day.

Fake Flower Decor:white flowers bouquet is real like,produced according to real cherry.The black vase,flower vases decorative is suitable for any artificial flower,Stable and can be paired with any flower or other decor.

Plant Decor:room decorations, is suitable for any centerpieces,centros de mesa para comedor,desk decorations,living room decoration,bed room,nightstand decor,silk flowers for home decor indoor.

Silk flowers for home decor indoor:In order to avoid squeezing, all of the flowers and buds of the plum are picked down and put in a bag, it's a good opportunity for you to make your own plant--to decide where these lovely flowers and buds stand on! Make it easily ,look at our video below if you need. And you will find the vas fixes the plum blossom branch well, also if you want the branch higher, other filler can be put in the vase.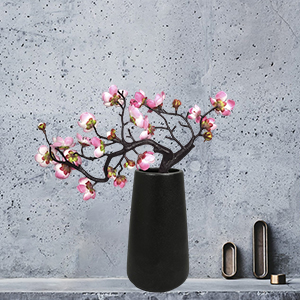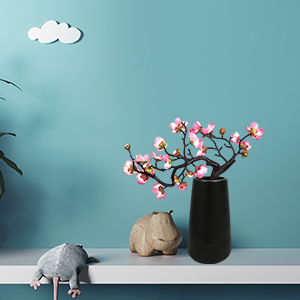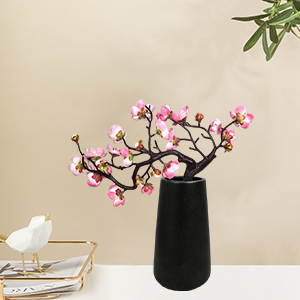 Ideal gift: Monther's Day gift or Birthday gift for friends
This plum blossom artificial silk flower has a realistic looking and real touch,and real different from others,so it's an ideal gift.

Simulation Flower with Ceramic Vase
1 x black vase planter; frosting finished surface; perfect size for decorative table/desk vases. Made by 100% high quality ceramic.
1pcs 13*8.7inch artificial plum blossom branch.
1bag of plum blossom

Artificial Flowers with Vase
This artificial plum flower features vivid color and lifelike appearance, realistic and durable.Nice decoration for home, office, wedding, photo studio, etc.
Plum silk flower is suitable for winter and early spring, providing a beautiful display and color to the winter garden,centerpieces or home wedding decoration

Desktop fake plant, artificial bonsai
A delicate vase,featuring vivid color, cut layers and lifelike pattern of the plum blossom branches, it will create an elegant atmosphere for your desktop.