Black Ceramic Vases for Decor Flower Vase with Two Artificial Flowers Set Bud Vases for Centerpieces Rustic Home Decor (Black)
Product No.:USBLKFLO1
Price:23.99 USD
Material:ceramic
Black ceramic vases for décor made from quality porcelain,high-temperature firing ceramics,pink and white fake flowers,the artificial flower is made with silk, leaves are hand-cut, will not easily fall, you can diy the flower bouquets by yourself ,small vases for flowers the perfect choice for rustic home decor.

Please gently spread the item after getting fake flower,no worry for slight deformation at the flowers and leaves during the transportation, just straight artificial flowers manually then just put into the vase, it will recover to normal shape only couple days later.Flower vase with fake flower is very suitable for adding a sense of decoration for any room.

One black vases for living room decorations and two bouquets artificial fake flowers set,small vases for centerpieces with artificial flowers can be made into a simple centerpiece,you can add accessories according to your favorite to enrich your flower arrangements,giving you visual enjoyment,the beautifully decorated black ceramic vases for flowers shows your style.

Small vase flower vases decorative with artificial flowers home décor ,under 8 inches ,Fake flowers' material has some plasticity so you can move the petals and bend the stems, small bud vase set perfect for everyday use, wedding, events, office, parties, mordern vase set the ideal gift is ready to give to relatives and friends, weddings, bridal gifts and holiday gifts.
Overall Product Dimensions:2.9"L x 2.9"W x10.8"H (72.5mm x 72.5mm x 275mm)/Decorative Vase Dimensions:2.9"L x 2.9"W x 3.9"H (72.5mm x 72.5mm x 100mm)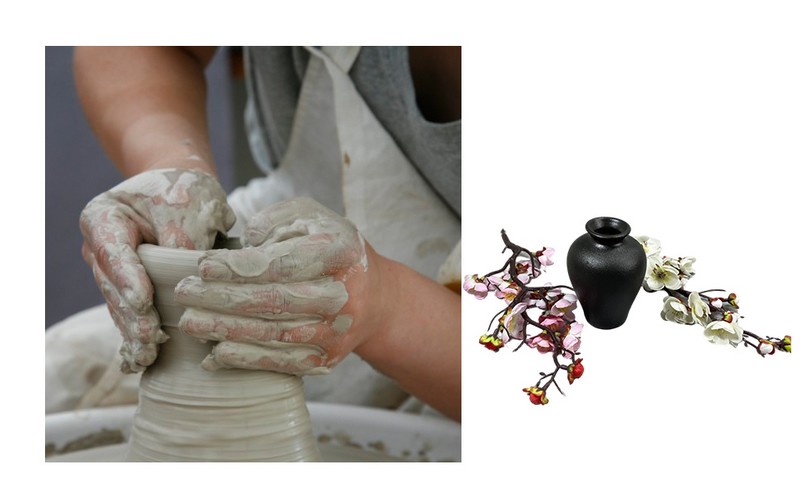 Pack in: 1pcs Black Ceramic Vase,2pcs Fake Flowers(Pink and White)
Handmade vase set for home décor made from quality pottery,small vases for décor set is durable and rust resistant and feels great in hand,pink and white fake flower is made with plastic, leaves are hand-cut, will not easily fall, you can diy the flower bouquets by yourself , small vases for flowers centerpieces ,delicate production, giving you a high-quality experience.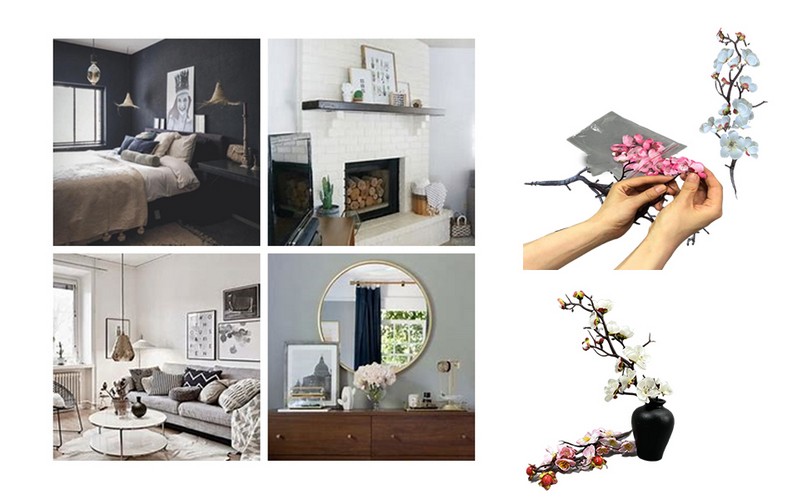 Pink and white fake bouquets will need to be re-shaped when removed from the box; this arrangement can easily bend for reshaping purposes - please separate the petals and stems to achieve desired fullness, small black ceramic vases with two fake flowers set for decor ,great for adding a decorative touch to any scene decor, home, office table,dressing table, window sill, dining room, hotel, birthday, wedding anniversary, festival, family party decoration.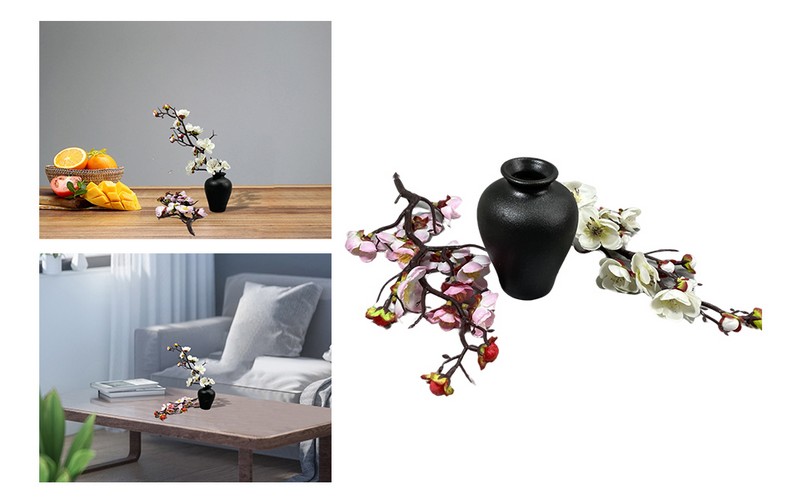 Black ceramic vases decorative ,under 8 inches,and two bouquets artificial flowers set,ceramic vase modern can make your home office, room more beautiful,vases for centerpiece give you happiness,love.
Tiny handmade ceramic vase with two artificial flowers set are used as the core decorations for decoration year after year, and flower vase are best gift for your loved ones on Birthday Christmas valentine's day Thanksgiving Mother's Day Father's Day.
Good packaging for safe delivery.
Overall Product Dimensions:2.9"L x 2.9"W x10.8"H (72.5mm x 72.5mm x 275mm)/Vase Dimensions:2.9"L x 2.9"W x 3.9"H (72.5mm x 72.5mm x 100mm)